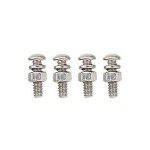 Electronic Fasteners is your number one source for metric bolts in Boston, MA and the surrounding area. As a stocking distributor supplying quality fasteners for industrial, commercial, and mil-spec fastener markets, we carry inch and metric fasteners, nuts, bolts, screws, rivets and pins. Our lines include a wide variety of materials including stainless steel fasteners, nylon fasteners, silicon bronze fasteners, brass fasteners and aluminum fasteners. If you're looking for metric bolts in Boston, MA, look no further.
We're fastener experts; call us for any of your requirements from standard to specialty fasteners, exotic metal fasteners, close tolerance fasteners, and made-to-print fasteners. One of our most common requests is metric bolts, in Boston, MA and throughout the nation, but we can also meet customized requests. You may not always be able to find stores with adequate quantities of standard and metric bolts in Boston, MA but when you work with Electronic Fasteners, you never have to worry about that.
We supply bulk metric bolts in Boston, MA and across the country. What's more, if you require additional fastener parts for each of your products, we can provide you with one kit, under your part number, and save you time and money – guaranteed. Call us today to talk about all of your fastener needs.