Vendor Managed Inventory (VMI)
Studies have shown that 85% of fastener costs are related to inventory overhead activities, like administration, inspections, over-ordering – while just 15% is the actual cost of the item.
Our programs are managed by a dedicated VMI Department, staffed with a full-time Manager and VMI Specialists. Here is what we'll do for you:
Design a stocking plan optimized to your specific inventory requirements.
Bar code label all of your bins and stocking locations.
Deliver your product according to a prearranged schedule.
Supply parts to ensure that you won't run out, but are not overstocked
Product is stocked at our warehouse, as backup to your on-site inventory.
Bill you on a monthly basis
Provide you with management reports and review them with you.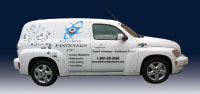 Electronic Fasteners, Inc. (EFI) is committed to delivering programs that work for
you

.
Our VMI Program has become the fastest growing segment of the business; in fact, these programs currently account for over half of our current annual sales.
The reason for this growth is simple: our programs deliver a dramatic reduction in the overall cost, and hassle, of procuring and managing fasteners. As one customer put it:
"The service level provided by Electronic Fasteners has been excellent. They have helped to reduce costs through the managed inventory program and their employees are always willing to do whatever it takes to fulfill our product needs."
Bill, Senior Buyer, GSI Group, Inc.