During the late 1950's, the expanding high-technology industries along Route 128 (the "electronic highway") began demanding more sophisticated and specialized suppliers. High-tech firms wanted better and more consistent quality of components, a higher level of service, and product specialists who understood technology-based problems and could suggest technology-based solutions.
In response to this industry demand, Electronic Fasteners, Inc. (EFI) was founded to specialize in the AN, MS and NAS fasteners used by the electronics and defense industries. The founders' stated mission was to create a company which would provide these industries with fasteners of better quality, with a higher level of service, and with specialized fastener knowledge and technology.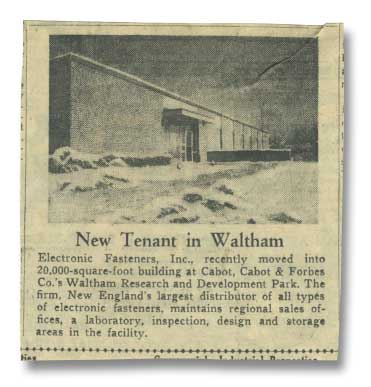 In February, 1960, Electronic Fasteners opened its first office and warehouse at 63 Melcher Street in 3,500 square feet of basement space leased from the Boston Wharf Company. From its very first mailing announcing the company's formation, EFI flourished, posting a profit even in its first year.
Growth was so rapid that in 1965 the company built a 20,000 square foot building just off Route 128, in Waltham. In 1972, another 10,000 square feet of warehouse space was added to the original structure.
EFI continued to grow throughout the 1970's, 1980's and 1990's. In keeping with its mission to provide a high level of quality and service, EFI obtained ISO certification in 1993.
During the late 1990's, the company also invested heavily in inventory management technology, and today utilizes systems as sophisticated as any in its industry.
November, 2021, Electronic Fasteners moved from their Waltham address to Canton, MA.
Today, Electronic Fasteners provides fasteners and fastener services of all types–plus a wide range of related hardware–to virtually every industry. EFI's sustained growth and profitability have attracted a dynamic workforce characterized by a high level of commitment and low turnover. Some employees have been with the company for more than 30 years. While EFI remains very much a family business–five of the original six founding families remain actively involved in the company–the company has not hesitated to seek out the industry talent it needs to maintain its growth and its high standards of customer service. Today, more than half of EFI's management team have been recruited into the Company or promoted from within its workforce.