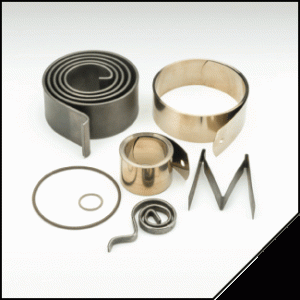 Commercial and industrial springs come in a variety of materials, sizes, and styles, including compression springs, extension springs, torsion springs, flat springs, and wire forms. Springs are used in virtually every industry and applications can vary widely within those industries. Choosing the right quality spring and spring design can be crucial to your overall product function and reliability.
One of the most common springs is the classic tension spring – these elongated coils are used to control the movement of a wide array of components such as mechanical arms and doors or covers and enable those components to operate under tension to control movement. Tension springs are used in a wide variety of applications, from robotic arms to cabinet doors and many more.
Tension springs and other common commercial and industrial springs are manufactured from a broad range of materials, depending on the spring's intended use. Some of the more common materials include:
Carbon spring steel
This is a standard material for normal commercial spring manufacturing.
Alloy steel
Commonly a chrome vanadium material designed for high temperature applications.
Nickel alloys
There are several different nickel alloys, each with specific properties that make them suitable for different applications. There are nickel alloys for high temperature applications; others that provide outstanding corrosion and fatigue resistance; and still others that offer excellent thermal conductivity.
Stainless steel
Stainless steel is ideal for applications that require good mechanical properties and corrosion resistance as well as a high tensile range and non-magnetic properties.
Silicon chrome
This oil-tempered material is well-suited for high stress applications such as use as a valve spring.
Phosphor bronze
Phosphor bronze is a good choice for applications that require non-magnetic properties and corrosion resistance.
Music wire
This is another good material with high tensile strength and high stress resistance.
When choosing the right spring design and quality for your application it's important to work with experienced spring professionals who can make environmental evaluations and material recommendations and who understand stress levels, load and deflection, initial tension and fatigue strength. The spring experts at Electronic Fasteners have the expertise and experience to make you feel confident in your commercial or industrial spring selection.