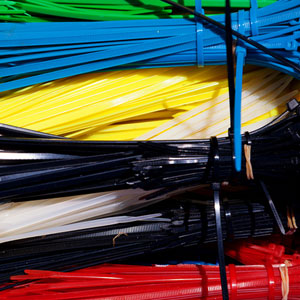 Cable ties are one of those common products that goes by a wide variety of names, including the most popular – zip ties (assumed to be called that because of the noise the nylon head teeth make on the strap teeth) – as well as cable wraps, hose ties, and others. They come in an array of designs, sizes, colors, strengths, and designs. So what exactly are cable ties and what are they used for?
Cable tie design
Cable ties – regardless of head, or pawl, design variations – are basically a nylon strap with teeth that fits through the pawl and is held tight by a matching set of teeth in the pawl. Some are designed for single use and need to be cut to release them, while others are reusable and feature a tab or other device that applies back pressure to the strap, releasing the tooth-on-tooth connection so the strap can be withdrawn from the head. That's it.
Cable tie uses
While you can find some pretty inventive cable tie uses out there, their primary function is to secure cables and wiring both inside electrical and electronic products as well as outside, in applications such as rack-mounted equipment bays. Depending on the specific application, certain cable tie strengths, dimensions and pawl designs are preferred, but the result is the same – an unruly bunch of cables or wires are efficiently bundled and secured for storage or routing.
Cable tie applications and types
Here are some of the basic applications for which cable ties are used, and the types of tie designs and materials associated with them:
General purpose
This broad category covers just about every general commercial and household use. As a result, general purpose cable ties are usually constructed of average 6.6 grade nylon and are chemical, grease and oil resistant. They come in a variety of single and reusable designs, lengths, strengths, and colors.
Outdoor
These cable ties are tougher than general purpose ties because they have to stand up to environmental elements such sunlight; wide temperatures; and contaminants such as dirt, grease, and oils. Because these cable ties need to be more rugged than general purpose cable ties, they're usually manufactured from 12 grade nylon and are sometimes called "black ties" because they contain a small percentage of carbon black to make them UV resistant.
Harsh environment
Cable ties for environmentally hazardous and rugged applications are constructed from stainless steel to make them flame-proof as well as corrosion-resistant. They're used in many places where standard nylon cable ties might disintegrate from high temperatures and exposure to corrosive chemicals.
Specialty
This is a particularly wide range of applications and includes special color and fluorescent ties for cable identification, packaging, and aesthetics (for example, matching colors). Some specialty cable ties are used for easy mounting of cable assemblies and hoses to panels and other surfaces, while others are metal detectable to ensure they can be found. There are even air-handling cable ties that meet UL 1565 air-handling space requirements for use above ceilings and below flooring.