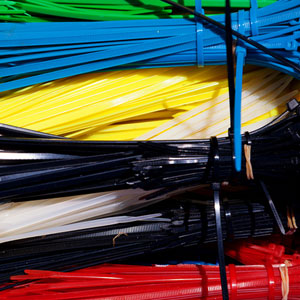 Cable ties are one of the most versatile fasteners known to industry. Cable ties come in an astonishing array of types, sizes, materials, and lengths. There are cable ties for everything from wire and cabling management, to transportation strapping, identification tags and material restraints and mounts.
Cable ties are available in an array of colors and materials, including Velcro, stainless steel, plastic, and nylon. Choosing the right material for your cable ties will depend upon the application, industry, and conditions in which they'll be used. To determine the right cable ties for your particular use, consult the cable tie experts at Electronic Fasteners.
Cable ties are popular because of their versatility, ease-of-use, and cost-efficiency. In many cases, the only tools needed to install cable ties are your hands – no tools or training necessary.
Cable ties have virtually unlimited applications such as in households, offices, manufacturing industries, automobile repair and maintenance, marine industries, electronics and many more. Electronic Fasteners maintains an extensive stock of cable ties in different sizes and types of cable ties suitable for almost every application imaginable.
For example, stainless steel cable ties are recommended for applications that feature chemical, salts and acids exposure and other harsh environmental conditions. Another example are Velcro cable ties and straps for applications that are not permanent and the user intends to reuse the cable ties in other applications. Temperature and UV-resistance are also considerations when selecting the correct cable ties. Bundle diameters, tensile strength requirements, and mounting alternatives are also important factors.
Electronic Fasteners offers high quality, economical cable ties for almost any retail, commercial, and industry application. Confused about the right type, size, and strength of cable ties to use? Just ask the cable tie professionals at Electronic Fasteners!