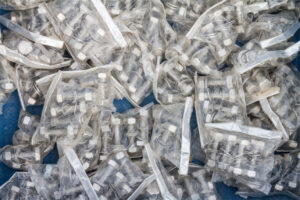 Before choosing a particular grade of stainless steel for your fasteners, you should first determine the conditions to which they'll be exposed. For example, do you need a fastener that will stand up to the corrosive effects of salt air or water? In that case, 316 steel might be a good choice because it is more corrosion-resistant than 304 steel, and better-suited to being exposed to a lot of moisture and corrosive salt.
Mechanical strength is another major consideration. If your fasteners are going to be subjected to major stress and force, high strength stainless steels are available in austenitic, duplex, and martensitic grades.
The major types of stainless steel used for fasteners include:
Austenitic stainless steels: (AISI 202, 302, 304, 316): These steels are generally nonmagnetic and have the best corrosion resistance because of their large nickel and chromium content. Their good cold-forming characteristics are subject to work hardening and are not heat treatable.
Martensitic stainless steel (AISI 410, 420): These metals are straight chromium steels with little or no nickel. They are magnetic and can be heat-treated. They also have more strength than austenitic types, as well as lower corrosion-resistance and are harder to cold form.
Precipitation hardening stainless (AISI 17-4 PH): These are nickel chromium stainless steels with cobalt and tantalum. The alloying agents produce high strength and ductility, as well as good machinability and weldability. They are not used for cold-forming, but are commonly used for high-strength, corrosion-resistant screw-machine parts.
Austenitic grades have a low magnetic reaction – the technical term is "low relative magnetic permeability." Steels containing higher nickel content, such as the 316 or 310 grades, have non-magnetic characteristics suitable for a wide range of uses. The ferritic and martensitic stainless steel grades (400 series) have high permeability and are categorized as ferromagnetic. Duplex grades like 2101 and 2205 are also ferromagnetic.teners
There are dozens of different steels available with a variety of characteristics, offering considerable flexibility in choosing a stainless steel. When it comes to stainless steel fasteners, the stainless experts here at Electronic Fasteners are some of the most knowledgeable in the industry, so give us a call when your next project calls for stainless steel fasteners. We'd be happy to help.