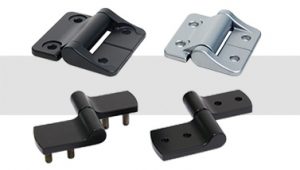 Hinges and latches are probably not components that come immediately to mind when discussing commercial and industrial products and systems, yet hinges and latches are crucial features on many equipment assemblies and systems.
Hinges and latches are vital for providing access, security, and flexibility to a wide range of commercial and industrial products. If you need hinges and latches, Electronic Fasteners, Inc. can help you with the most comprehensive inventory of hinges and latches for virtually any application, product, or system.
Hinges and latches are available in a wide variety of sizes, shapes, and materials to suit a range of applications and industries. Electronic Fasteners can provide a comprehensive selection of innovative latches and hinges manufactured from a variety of materials and alloys which enable engineers, builders, designers and OEMs to design products with confidence, knowing their hinges and latches will function safely and reliably under all kinds of conditions for all kinds of applications.
Electronic Fasteners' high quality stainless steel hinges such as lift-off hinges and butt hinges are made for corrosive and harsh environments, combined with features such as spring-loaded, concealed and quick-release functions for cabinets, lids, and doors. You can rely on Electronic Fasteners for all your hinges and latches for general purpose, commercial, and industrial products as well as for high-reliability and rugged-environment use.
The hinge and latch experts at Electronic Fasteners can help you select the correct hinges and latches for your specific product and application. They're knowledgeable in all the factors that can affect the operation of latches and hinges, such as positive and negative pressure, very high gasket compression, vibration, corrosive or abrasive atmospheres, or structural movement.
Electronic Fasteners is the perfect go-to supplier for all your hinges and latches, in the right quantities and at the right price. Electronic Fasteners has the most comprehensive selection of hinges including barrel piano, spring, door, concealed, lift-off, hidden and specialty barrel hinges. Latches include rotary, swell, push-to-close, draw, can and compression styles.
Hinges and latches are just part of the commercial and industrial hardware inventory Electronic Fasteners has in stock, ready for delivery. For half a century, Electronic Fasteners has been a wholesale stocking distributor of fasteners and related products and services, including tools, cable ties and wire systems, bolts, nuts, and washers as well as hinges and latches. With over $2 million in inventory ready for delivery in their warehouse, chances are Electronic Fasteners has the items you need, including hinges and latches.