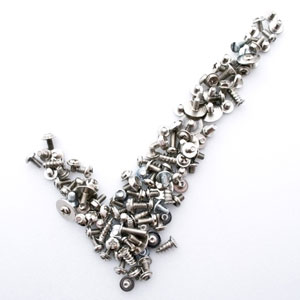 Bolts are made using different materials, thread types, coatings, various classes of fit, and multiple grades. Bolt grades indicate the strength of a bolt, which is important when selecting a fastener so you can be sure the bolt is strong enough for the job.
The material used to construct the bolt and the material properties of the bolt determine the grade. Steel fasteners are commonly available in four grades that are broken into the following categories: 2, 5, 8 and 18-8 stainless (commonly referred to simply as alloy steel). Grade 8 is the hardest, Grade 5 is medium, and Grade 2 is the softest.
Here's a quick guide to identifying bolt grades and materials, so you can be sure to match the bolt and grade to your project requirements:
Grade 2
This is the most common grade of steel fastener and is the least expensive. Grade 2 bolts have no head marking, although sometimes a manufacturer's mark is present. This grade of bolt is made from low or medium carbon steel.
Grade 5
Made of medium carbon steel that is quenched and tempered for added strength, this grade is the most common bolt found in automotive applications. Grade 5 bolts have three evenly spaced radial lines on the head.
Grade 8
This grade of bolt is made of medium carbon alloy steel that has been quenched and tempered to harden it more than grade 5. They are stronger and are used in more demanding applications such as automotive suspensions. You can identify Grade 8 bolts by the six evenly spaced radial lines on the head.
Grade 18-8 Stainless (Alloy Steel)
These high strength bolts are made with a steel alloy containing an average of 18 percent chromium and 8 percent nickel, which makes them extremely strong but very brittle. They undergo additional heat treating and are typically not plated, which gives them a dull black finish. Markings can vary on these bolts.
Grades 2, 5, and 8 are usually plated with a silver or yellow zinc coating or galvanized to resist corrosion.
Graded components should be matched – for example, Grade 5 nuts with Grade 5 bolts – enabling them to work together with the same level of hardness, thereby insuring consistent strength and a better, more reliable connection.