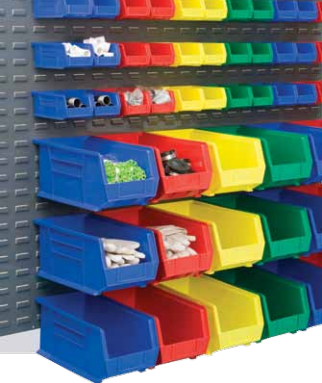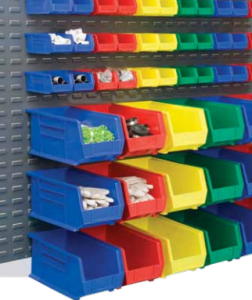 Storage and shelving systems for commercial and industrial applications are vital components in any manufacturing or distribution operation. The right shelving and storage systems can make the difference between efficiency and profitability or disarray and failure.
Choosing the right storage and shelving systems means considering a number of options based upon your needs, processes, and the products that need to be stored:
Does the material or items need to be readily accessible or are they intended for long-term storage?
Do the items or products being stored need to be protected in any way?
Do the items need special storage considerations – are they prone to damage?
Is security a concern?
Open vs. closed shelving and storage
Once you start looking at actual storage and shelving systems, the two main categories are open and closed. If the items being stored need some level of protection or a more finished, less-cluttered look is preferred, then closed shelving is the right choice. If accessibility and economy are greater concerns, open shelving is the way to go.
Modular storage vs. static shelving
If you're a manufacturer or distributor, the choice between flexible, modular storage and static shelving is critical. For companies that require maximum flexibility for materials or product storage – say, for discrete manufacturers who might have significantly different manufacturing processes depending on their customers or time of year – then modular storage is ideal for highly flexible, scalable storage and shelving positioning depending on what's being manufactured.
Modular storage and shelving systems also enable you to quickly and efficiently change floor plans and work areas – ideal for warehouses and distributors that can have changing inventories and fulfillment processes. Modular storage also takes up less space than static shelving – an important factor if space is limited.
If cost is a major concern, then static shelving is a better choice, typically costing significantly less than its modular, mobile counterparts. Not only is it less expensive to purchase and install, it also saves money in the long-term because it doesn't wear out the way modular storage units might if they're rolled, pushed, and dropped into position on a regular basis.
Storage and shelving systems for bulk items
If you run a distribution center, warehouse, or retail operation that handles large volumes of small parts such as nuts and bolts, screws, connectors, electrical or electronic components, you may want to consider rotary shelving to save time and space. Rotary shelving enables lots of bulk items to be concentrated in less space than other systems. Rotary storage also makes items more readily accessible – -just spin the rack to get to the right size or color.
No matter what kind of storage and shelving systems you're considering, turn to the storage pros at Electronic Fasteners for help in determining the right shelving or storage system for your industry and application. We have a wide range of storage systems and shelving to fit virtually any need.