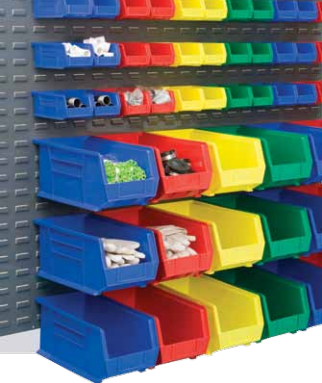 Industrial storage systems can be confusing — there are so many styles, sizes materials, and uses for industrial storage systems that it helps to find one manufacturer that can supply the widest variety of containers, cabinets, racks and portable storage systems to fit whatever needs you might have in a commercial or industrial facility.
If you're looking for industrial storage systems, we recommend Akro Mils products because their designs, production, and availability are unmatched. If you're not familiar with them, Akro Mils provides storage, organization and transport solutions that increase material handling efficiency and reduce costs in virtually any industry. They've got a broad range of products that enable manufacturers and distributors to shorten assembly times, maintain accurate inventories, optimize storage space and improve parts protection — all in support of 5S Lean and other productivity initiatives to increase productivity and profitability in any commercial or industrial environment.
Looking for cost-effective durable storage systems for tough industrial use? Check out Akro Mils's shelving systems — their wire shelving units help to maximize storage wherever you need it. Open-deck shelves prevent dust accumulation, the durable chrome finish is rust and scratch resistant, and no tools are required for assembly.
If your usage includes pick-and-place, consider one of their pick rack industrial storage systems. Sloped shelves keep parts at the front of the bin for easier picking and these types of industrial storage systems are available in single-sided, double-sided, or bench rack styles.
Many of our customers have found that Akro-Mils shelving systems, storage cabinets, and bin hanging systems make organization easy and more efficient. Their product line of storage solutions include:
Louvered hanging systems
Rail hanging systems
ReadySpace storage systems
Pick rack systems
Wire shelving
Steel shelving
Regardless of the type of industrial storage system you need, the storage system experts here at Electronic Fastener highly recommend Akro Mils storage products. We've found them to be of the highest quality, durable, and reasonably priced.