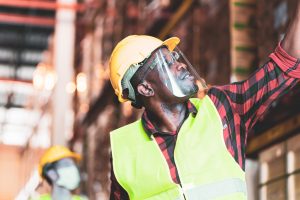 As the new year begins, so does the concerted effort to increase COVID-19 vaccinations across the country. Even as hope grows that the end is in sight, the economy continues to reel under the impact of the pandemic. Companies of all sizes and in all industries continue to adapt to the new reality of doing business during a pandemic and formulate plans and processes to accommodate radically different working conditions that require increased safety protection. And here at Waltham, MA-based Electronic Fasteners, we're continuing to work hard at providing the safety equipment companies like yours need right now.
At Electronic Fasteners, we've expanded our inventory to ensure a ready supply of safety protection products, including:
Hand sanitizer
A variety of safety gloves for all applications and industries
Safety glasses
Paper and fabric masks to accommodate different workers and conditions
Clear plastic face shields
We also carry a complete selection of standard safety gear such as hi-vis vests, safety signage, barriers, and more
OSHA and the Centers for Disease Control have issued updated guidelines to help businesses and organizations address pandemic safety issues. They recommend that employers adopt infection prevention and control strategies based on a thorough workplace hazard assessment, use appropriate combinations of engineering and administrative controls, safe work practices, and personal protective equipment (PPE) to prevent worker exposures. As a result, many major companies are increasing their expenditures to boost employee safety within their facilities. This includes purchasing items similar to the safety protection products available through Electronic Fasteners.
For example, Amazon has said it plans to spend all of its profits for the second quarter of this year – an estimated $4 billion — on its response to the coronavirus pandemic. Some of the $4 billion will be spent on personal protective equipment, better cleaning protocols at facilities, and "less efficient process paths" that will allow for social distancing.
Ford is anticipating restarting its European engine and vehicle production by devising and implementing new social distancing and health and safety protocols, going so far as to manufacture its own face masks and providing employees with "personal-care kits" that include safety protection products such as sanitizer, gloves, and face masks. These kinds of kits are also ideal for a wide range of other companies and can be very cost-effective, especially if they are filled with safety protection products.
If your business or organization is developing or revising a strategy for getting all of your employees safely back to work, contact the specialists in safety protection here at Electronic Fasteners.