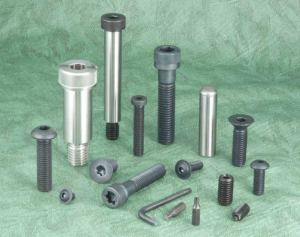 Socket products in the country cover a wide range of fasteners that can handle thousands of applications in hundreds of industries. If you're in need of standard socket products or even custom socket products, you need to talk to the socket product experts here at Electronic Fasteners.
Electronic Fasteners has decades of experience in stocking, recommending, and selling all kinds of fasteners including socket products, made from a wide range of materials, including steel and stainless steel. We can provide a comprehensive selection of commercial, industrial, and mil-spec socket products in different sizes and configurations including metric. Need non-standard sized socket products for your application? We can have them custom made.
Our extensive inventory of socket products includes:
Socket Head Cap Screws
Our inventory contains socket head cap screws manufactured to the ASME B18.3 dimensional specification and the A574 mechanical specification, available in a plain finish and a range of sizes. Also, coarse and fine threaded screws are available based on the needs of your project.
Socket Flat Head Cap Screws
Also manufactured to the ASME B18.3 dimensional spec, our ASTM F835 alloy steel socket flat head cap screws are precision-manufactured to rigorous standards and available in a range of sizes.
Socket Set Screws
We offer ASTM F912 alloy socket set screws in both cup point and flat point, as well as national fine and national course thread. Available in a plain finish and a number of lengths and diameters.
Socket Button Head Screws
Button heads are rounded and low profile with an Allen (hex socket) drive — a six-sided recess for use with an allen wrench (hex key).
SPS/UNBRAKO® Socket Products
Socket head cap screws, button head socket screws, flat head socket screws, socket set screws, socket shoulder screws, hexagon wrenches, hexagon wrench sets, dowels pins, Sel-lok pins, pressure plugs, and tee bolts.
SPS/UNBRAKO® Engineered Socket Fasteners
A capability of SPS Technologies' Industrial Fasteners Group, specializes in developing custom fastening solutions for one-of-a-kind, high-volume applications. UNBRAKO®'s engineered fastener system extend cycle life, cut long-term production costs, reduce recalls and provide liability protection.
Socket products are just one of many categories of fasteners that we stock as part of our impressive inventory at Electronic Fasteners. Contact the socket product experts at Electronic Fasteners to discuss your specific needs.