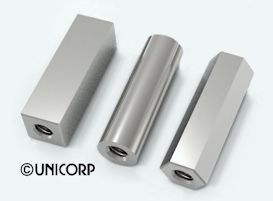 Spacers are mechanical components used extensively in many industries. They are unthreaded pieces of tubing designed to provide support and spacing between two or more objects, which helps reduce stress and strain on the components. Spacers typically allow the bolt to pass entirely through it and are round since it cannot be tightened itself. This type of product is used in many applications such as:
Aerospace
Automotive
Medical Devices
Heavy Machinery
Power Generation Systems
Located in Canton, MA, Electronic Fasteners has a wide range of spacer products to meet these diverse industry specifications and meet their rigorous demands.
First and foremost the quality of the spacer is an essential feature to consider. It needs to be able to withstand the intended load and environment in which it will be used in. Material selection depends on temperature, stress, strain, vibration, and other factors that can impact the component's lifespan. It is crucial to evaluate the dimensions and tolerances that are required for the application. These components come in a variety of sizes, shapes, and materials, so finding one that fits the application can be tricky. It is also essential to consider any other factors such as surface finishes or coatings that may be needed for the application.
When ordering spacers, it is vital to consider the supplier's ability to meet your requirements. Electronic Fasteners works with each customer to understand the application and has experience in supplying such components with dimensions and tolerances to fit project requirements.
With a history of over sixty years and a reputation for top-notch products and customer service, Electronic Fasteners has become associated with quality and reliability. We offer a wide selection of spacers including standard, custom, and metric sizes as well as offering options for specialty coatings or finishes. When it comes to finding spacers, you can trust Electronic Fasteners to find the best product for your application. Contact us today to learn more about how we can help you find the right fastening solutions for your industry.