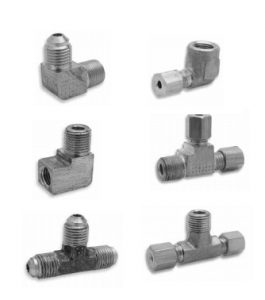 Specialty fittings can be a challenge for many companies to find depending on the industry and application. If you're in need of specialty fittings anywhere in the country, Electronic Fasteners can customize any type of fitting in virtually any material and size that you require. These  specialty fittings can be manufactured to your specifications in a variety of materials, including aluminum, steel, copper, brass, nylon, plastic, and more.
Electronic Fasteners is capable of providing a wide range of specialty fittings for just about any kind of consumer, commercial, and industrial product, including high-reliability, mission-critical specialty fittings for military and aerospace projects. All of their specialty fittings are precision-manufactured by one of their ISO-qualified specialty fitting manufacturing partners.
Your specialty fittings can be custom finished to meet your specific needs, including bright dipping, annealing, plating, and powder-coating. The specialty fitting experts at Electronic Fasteners will work with your engineers to ensure that your specialty fittings will meet your exact specifications accurately and reliably, whether you're receiving a few hundred or a few million parts.
Why trust your critical specialty fittings to just any parts manufacturer? Trust the specialty fitting professionals at Electronic Fasteners to do it right, the first time and every time. To learn more about how you can have specialty fittings produced consistently and cost-efficiently, talk with the specialty fittings experts at Electronic Fasteners.