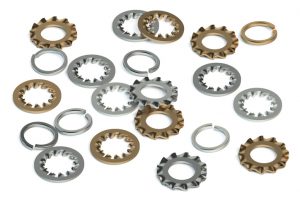 Lock washers are a crucial fastening element when used with nut and bolt combinations for applications in which it is critical that the assembly does not loosen. In instances where lock washers are used, they are placed between the nut and the surface being secured or joined. Lock washers resist the force being applied by the nut and prevents the nut from loosening.
Specialty lock washers are called for in situations where standard lock washers might not be appropriate, such as mission-critical applications which expose the assembled system to unique environmental conditions, such as vibration, wide temperature fluctuations and other physical factors that can cause the nut and bolt assembly to loosen.
Some specialty lock washers feature a split – a single cut that extends from the outside diameter to the inside hole. That cut is the unique feature and reason for calling this type of lock washer a split lock washer. Whether a standard lock washer or specialty lock washer, the two sections adjacent to the cut are misaligned in the direction perpendicular to the washer surface. This misalignment allows the specialty lock washer to resist force by creating friction through resulting spring action that prevents the nut from loosening.
If you're in the market for specialty lock washers anywhere in the country, Electronic Fasteners is your go-to resource for commercial and military specialty lock washers. We have several high quality, industry-leading specialty lock washer resources that can produce virtually any type of specialty lock washer you need. Simply provide a print or manufacturer's part number and we'll have the specialty lock washers delivered to you quickly and at a highly competitive price.