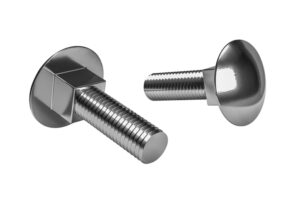 Stainless steel carriage bolts are a modern version of a specific type of bolt that has been in use for hundreds of years, starting out as the critical fastener for carriage wheels, hence the name. Today, carriage bolts are made from a wide variety of materials, stainless steel being one of the most popular here at Electronic Fasteners in Canton, MA.
Stainless steel carriage bolts are used widely in such industries as:
Farming, where they're used for a variety of wood-based assemblies such as barns, fencing, stalls, and more.
Mining, where carriage bolts are often used in shaft shoring materials and bracing
Railroading – for ties, rails, and signage
Water Management, where they're preferred for securing water course and containment components
Canton, MA stainless steel carriage bolts feature a distinctive design that includes a shallow and dome-shaped mushroom head, a circular shank cross-section, and a square section immediately below the mushroom head. The squared section has a plain unthreaded shank and is the same size as the bolt shank's diameter. The squared-off shape enables stainless steel carriage bolts to self-lock when placed correctly through a square hole.
Ease of use, especially when used with wood, is one of the most popular attributes of stainless steel carriage bolts for Canton, MA. Their smooth, dome-shaped heads offer an aesthetic appeal and their self-locking characteristic provides some safety when used in building wooden decking, decorative fencing, wooden furniture and backyard play equipment. Along with safety, carriage bolts also provide security as they can only be unbolted from one side. Home repair professionals like them because they're useful in fixing doors to prevent unscrewing from the wrong side.
Stainless steel carriage bolts, Canton MA are sometimes confused with lag bolts, however there are differences. A carriage bolt has a flat end, while a lag bolt has a pointed tip. The top of a carriage bolt has that distinctive square neck that resists turning once the bolt is fastened in place. The flat end means that a washer and nut are used to secure a carriage bolt. Lag bolts have wide threads and that pointed tip that enables them to be screwed directly into wood without requiring a nut to secure them in place.
If you'd like to learn more about stainless steel carriage bolts for Canton, MA, contact the carriage bolt experts here at Electronic Fasteners. We can help you select the right ones from our large inventory.