Screw Checker and Reference Guide
Fastener Black BookInch/Metric Fasteners
ISO & DIN Specifications
Fastener Platings & Finishes
Pre-loads & Tightening
Torques
Thread Terminology & Classifications
Standard Grades, Tolerances & Markings
Thread Forms, Heads, Points, MKaterials, Coatings
Price………………………… 27.99 ea

Internally Threaded U.S. Screw Gages
(Actual size is 3″ x 5″)
Available in White plastic
Price………………………… 6.00 ea
part number: isg/1

U.S. Bolt & Nut Thread Pitch Gage
Top two rows of holes are threaded for fine bolts.
Bottom two rows of holes are threaded for coarse bolts.
Posts measure coarse and fine nuts.
(Actual size is 8″ x 3 3/4″)
Available in White plastic
Price………………………… 7.00 ea
part number: tg/1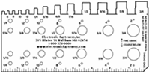 New Third Edition
Kanebridge Fastener Reference Guide.
Two years in the making Expanded and Updated.
Over 370 pages of easy-to-read technical information.
Hardbound for durability. Includes the latest revised specifications from ASME, ASTM, and SAE. Includes specifications not found in other popular fastener reference books.
Price………………………… 60.00 ea