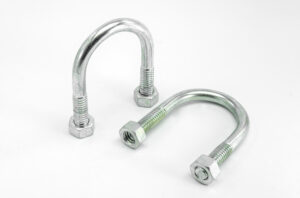 As their name implies, a U-bolt is a highly functional fastener shaped like the letter "u" and threaded on each side. While there are many different applications for these bolts, they are most commonly used in plumbing and piping systems. Located in Canton, MA, Electronic Fasteners offers these bolts in many configurations that include:
Semi-round
Square
Custom-forged
Round
U-bolts are manufactured through cold- or hot-forming methods from wire and round stock in a variety of metals, such as galvanized and stainless steel. They are available with saddle clamps, making them ideal for fastening pipe and cable bundles to infrastructure such as frameworks and poles. Saddle clamps can be supplied with bolts as a matched set and used to apply clamping forces, distribute the assembly load, and secure components to such systems as piping and antenna arrays.
For example, something might be attached to a utility pole with U-bolts. The bolt would straddle the pole, and a crosspiece would keep the bolt snug. These bolts can also be used for applications such as attaching cables to walls, with the threaded ends of the bolt protruding into a hidden space, while the U faces outwards, allowing users to hold cables, rods, and other materials flat against the wall.
U-bolts can also be used as concrete fasteners, pushed into the concrete with the threaded ends facing up while still setting, enabling various objects to be bolted to the concrete. The U shape keeps the bolt in place so it will not pull out of the concrete, adding security and stability.
With many potential applications, contact the fastener experts at Electronic Fasteners to learn more about how we can help you find the right U-bolt for your next project.